Deceuninck is thrilled to be listed as Approved Suppliers for Double Glazing on the Web.

We aim to provide beautiful, bespoke windows all across the United Kingdom and to its homeowners. We work to deliver double glazing that offers high levels of energy efficiency and security without compromising on the visual appeal and performance of our products.
Deceuninck brings over 80 years of manufacturing experience to our Heritage Collection. Because of that, we believe we offer an incredible service matched with an equally brilliant product, and that's why we are now listed as Approved Suppliers for both Double Glazing on the Web and Conservatory Online Prices.
We combine the elegance of a high quality timber appearance with all the modern benefits of uPVC to create an industry leading product. We continue to grow and to search for the best possible products as part of one of the market leaders across Europe.
We aim to go above and beyond the call of duty and when you approach us to provide your business with a product of outstanding quality. We can provide you with sample packs and drop cards to allow you to take your business to the next level.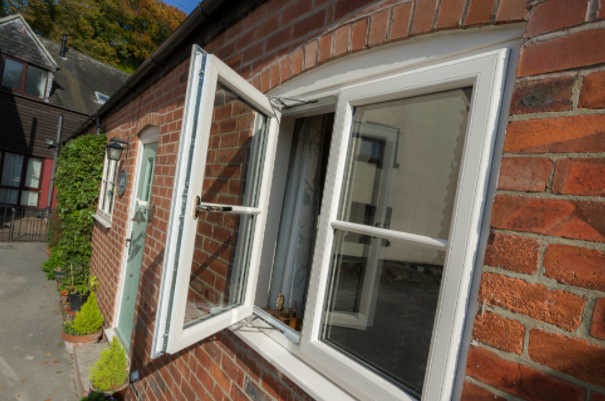 Our conservation promise
If your customers lives in a conservation area, they need not worry about the strict planning guidelines as our timber finishes perfectly replicate the look of traditional timber windows with our flush sash windows. The ideal double glazing solution for conservation areas.
This includes the option of several traditional accessories including Monkey Tail Handles, wood grain finishes and Georgian Bars. These options mean you can preserve the architectural features of your home if you do live in a more rural cottage or farmhouse.
Why choose the Heritage Windows Collection?
When you choose to supply products from us, you'll be offering clients a bespoke modern double glazing option fitted with only the best and latest in window technology. Here's just a taste of what is included when you shop with us as Approved Suppliers:
Incredible safety features
When providing your customers with a gorgeous, bespoke window, they also want to know they're getting a product which won't let them down regarding practicality. With the Heritage Windows Collection from Deceuninck. you get only the best locking systems on the market with incredibly rigid material so your customers can sleep easy.
A range of different colour options
At Deceuninck, we believe that you shouldn't compromise on providing customers with the perfect window for whatever home they live in. With that, we offer 26 different colour options as the standard for our bespoke uPVC windows which means they can choose something to fit a more rural property of a shade which would transform a modern home.
Keep the adverse weather out
While our windows are great for allowing natural light to flood your customer's homes, they'll also remain watertight against worse weather. This means that when the rain comes in the British winter, your customers will know that their product will keep their home dry and secure.
Great energy efficiency
The Heritage Window Collection are both stunning visually and incredibly practical. Our windows come with an A+ energy rating which makes for optimal efficiency in the harsher months. As a result, your customers will have a product which will keep the cold out and potentially cut down on energy bills.
Soundproof
As Approved Suppliers for Double Glazing on the Web, the glass we use in our windows has to be of the highest quality. Our double glazing is impressively soundproof which means if you live in a busy area you can enjoy your privacy without being disturbed by the outside world.
Low maintenance
With our range of windows, our uPVC models come without much need for aftercare or maintenance. We don't believe that customers should have to worry about the longevity of their products. With the Heritage Window Collection, they'll be buying something which is built to last.
Want to register to be an installer?
If you'd like to take the first step in providing your customers with the Heritage Window Collection from Deceuninck, then you can fill out our form to begin the process of becoming a registered installer. As approved suppliers for both Double Glazing on the Web and Conservatory Online Prices, we look forward to potentially working alongside you and providing your business with only the best windows on the market.